By Maralee Sauter, IDL SIG Manager
STC's annual Technical Communication Summit is the premier conference for technical communication education and networking. The Summit brings together like-minded individuals to grow their knowledge of the technical communication field.
Maralee Sautter, the IDL SIG manager, attended this year's Summit in Atlanta, Georgia, from May 14-17. In the spirit of this year's Summit theme, "Learn Well through Show and Tell," she shares her experience. 
Saturday, May 13
My Summit adventure started on Saturday, May 13, when I left Portland on an early flight to Atlanta so I could acclimate from Pacific to Eastern Time. The day was devoted to travel; it was helpful as I easily adjusted to the Eastern time zone.
After my flight arrived, it still took me a long time to get to the hotel because I used the train. Buying a train ticket was confusing because the visuals and text were congested; better instructions were needed. (Why didn't they employ a tech writer?) I had to ask someone which line to take. Then I got to the train platform and learned my line was not running. Oh, sigh! I made it after many inquiries with attendants, train passengers, and very charming folks along the way.
After checking into the Hyatt Regency and unpacking, I made my way up the street to the Hard Rock Café, where I enjoyed dinner and conversation with my server. At the end of the day, I realized my travels and encounters had been blessed with Southern hospitality.
Sunday, May 14
Sunday was a pre-conference day, and since it was Mother's Day, I decided to treat myself to a lovely lunch across from the Hyatt Regency Hotel. On a serendipitous note, I found Ann-Marie Queeny, past Community Affairs Committee Manager, and we dined together and talked about STC, the IDL SIG, and other communities.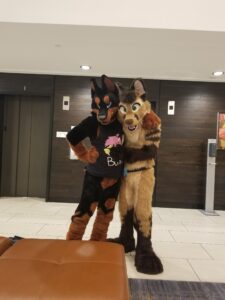 After lunch, I returned to the hotel, which was inundated with people (not from STC) attending a Furry Mascot event in the Atlanta Convention complex. There was a flurry of folks donned in all woodland animals, mythical creatures, and game-inspired costumes. The costumes were impressive and big; I spoke to two young men who gladly posed for me. In talking to some other young men, I discovered that many attendees work in IT departments, and this was a masked way for them to laugh and become alternate characters.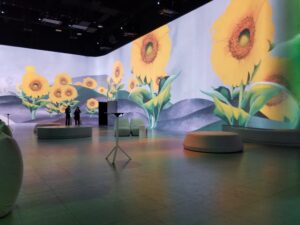 In the evening, I was able to visit the Illuminarium as one of the after-hour events put on by the Atlanta Chapter. The Illuminarium consists of two rooms of art displayed from overhead projectors, moving from one infused wall into another, giving motion to the display in video movement.
Monday, May 15
The official opening of the Summit! While the conference was more expensive this year, the fee included breakfast, snacks, and lunch. It was awesome to enjoy meals with colleagues rather than scrounging around for quick food on the run.
After a few morning sessions, we moved to the ballroom for our first luncheon and opening talk.
Opening Session Lunch: The Formula to Achieve Bigger Goal, Presenter: Andrew Lawless
Extraordinary people are not necessarily the most skilled or highest educated people. So, what do they do differently? In his presentation, Andrew Lawless led us through his journey to achieve bigger goals.
At first, Andrew had the audience exercising to get minds off "thinking" and into a state of relaxation. Andrew showed us various techniques through the session to observe self-inflicted judgment in ourselves, then purge it. By confronting weaknesses and letting them go, we can reach bigger goals because we are focusing on positivity and a can-do attitude.
IDL SIG table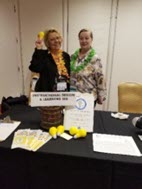 Marcia Shannon, the IDL SIG membership manager, and  I met to set up the IDL SIG section at the CAC table. We had brochures, light bulbs, magnets, and a signup sheet for a $25 Amazon gift card sponsored by Imperial Productions. Our winner was Melissa Engelhard.
Marcia is busy writing a form letter to all folks who dropped a card into the basket. She's encouraging them to join and volunteer.
A few of the sessions I attended on Monday were:
From Google to TikTok: Rationalizing the Digital Tutorial, Presenter: Liping Yang
Transform PowerPoint Presentations into Fully Interactive eLearning Courses for Your LMS, Presenter: Chuck Campbell
STC Community Leadership Information Exchange
After the sessions were closed, I attended the CAC gathering to listen to leadership commentary. It was fun to meet with other leaders and see our new STC Interim Executive Director, Timothy Shaw.
Tuesday, May 16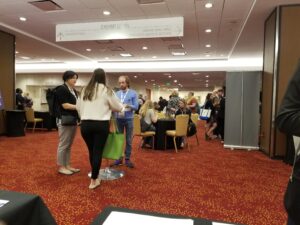 On Tuesday, I spent much time talking to exhibitors and attendees who came by the IDL SIG table, letting them know about the SIG and encouraging them to enter our drawing. It was a busy day filled with connections.
The following were my favorite sessions that I attended on Tuesday.
Practical Sketching for Technical Communicators, Presenter: Elizabeth Alley
What Tech Comm Professionals Can Learn from Museum Curators, Presenter: Leah Guren
Honors Celebration and Lunch, Guest Speaker: Judith L. Glick-Smith, PhD
We gathered for a wonderful lunch in the Hyatt and moved from the sessions up one floor to the ballroom. We listened to Judith L. Glick-Smith speak about Using Flow to Craft a Life of Excellence in Tech Comm: "Flow is what you feel when you are challenged in the moment but know you have the skill to meet that challenge; you are off-the-chain productive; time has no meaning; you feel great when you finish your work."
Then we moved on to the honors celebration, where the CAA recipients were announced. We were acknowledged for our Platinum CAA and Pacesetter awards at this time. There were many awards given out to other chapters and new Fellows and Associate Fellows, the  Jay R. Gould Award, the Ken Rainey Award, the Lifetime Achievement Award and many more. Congratulations to all recipients who have contributed to the Society.
STC Communities Social and Networking Event
I attended the CAC leadership forum at the end of Tuesday's session. We celebrated STC's 70th Anniversary and waved our makeshift birthday candles (small flashlights) to commemorate STC.
After the CAC sessions, I participated in the Dine Around Atlanta at the Pacific Rim Bistro. The food and company were great, and I returned to my room satisfied with such an amazing day of educational experiences and connections with STC members.
Wednesday, May 17
On the final day, Marcia and I wrapped up boxes with swag, brochures, the contact email list, the IDL SIG banner, and miscellaneous items. Marcia took all items to store them at home until next year.
On Wednesday morning, I attended a two-part session by Kelly Shrank: "Creating an Infographic Using PowerPoint: Let's Do It!"
STC hosted another lovely lunch and were able to mingle and eat before the closing session began. Seeing and listening to Scott Abel, a longtime advocate of STC, was a treat.
Lunch and Inclusive Language: Survey Findings and Best Practices for Content Strategy, Presenter: Scott Abel
In his talk, Scott gave us insights into the current state of inclusive language initiatives and best practices for developing and implementing an effective content strategy for promoting inclusivity. He discussed the challenges and opportunities associated with using inclusive language and provided tips from impacted community members for incorporating more inclusive language at work.
Goodbye, Summit 2023
On my ride to the airport, I felt exhilarated from sharing words, connecting with members, enjoying the city's sights, and learning about technical communication from a broad scope of educators. Going to the STC Summit is a rich experience where you learn a lot and create wonderful bonds. At this point, it's not clear whether we'll meet in person in 2024, but I encourage all members to attend an in-person Summit at least once. It's a memory worth having.