By: Kelly Smith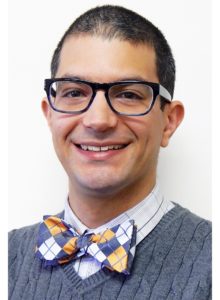 Whenever possible, we like to welcome new SIG members by asking them to share a bit about themselves. In this issue, we welcome George K. Abraham IV.
George is a materials scientist, technical communicator, and manager of technical services at Allied High Tech Products Inc. where he has become an industry authority on metallography. He is responsible for providing technical support, seminars, workshops, training, and demonstrations on Allied's metallographic equipment and consumables, Zeiss's optical microscopes, cameras, and imaging software, and Mitutoyo's hardness and microhardness testers. He has a Bachelor of Science in materials science and engineering from Case Western Reserve University, and he previously held positions at H.C. Starck and Rhenium Alloys Inc.
George manages Allied's applications laboratory, overseeing the development of metallographic procedures and assisting with research and development of new metallographic equipment, accessories, and consumables. He has authored numerous application notes, reports, technical bulletins, operation manuals, technical articles, papers, presentations, and webinars.
George serves on the editorial board of the journal Metallography, Microstructure, and Analysis, as secretary of the International Metallographic Society Board of Directors, and as a member of various professional committees focused on standards, education, and mentoring.
Also appreciative of the art of metallography, George has been known to get lost in microscopes exploring the beauty of materials; his favorite microstructure is nodular cast iron. George has developed and taught materials sample preparation seminars for ten years and enjoys mentoring emerging professionals in science and engineering.
Welcome, George!
---
If you are a new member and would like to submit a bio, please email it to newsletter@stcidlsig.org!