Co-manager's report:
Opportunities are waiting for you -
learn and grow with us!
By Lori Meyer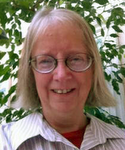 The Summit conference is a special time for SIGs like ours, because it's the one time of the year our members can meet in person, get to know one another, and teach and learn together. Summit is also the perfect time to learn more about how you can be involved in YOUR instructional design and learning community! We thrive as a professional community because of you -- your leadership, your creativity, and your service make a difference!
Our SIG will be honored with two major STC awards this year: the Platinum Community Achievement award, which signifies excellence and above-and-beyond achievements throughout the previous year, and the Pacesetter Award, which is given to communities who have demonstrated innovative work that can be modeled by other communities. We received these awards because members just like you became involved and generously gave their time and talent. Many helping hands just like yours helped us earn this recognition.
But more importantly, involvement is about YOU -- about learning and growing in a community that treasures teamwork, friendship, and fun. Every new volunteer, no matter what role they play, has an opportunity to touch our community in a positive way and make a difference. We are proud of our achievements and awards, but just as proud of the fact that we are a strong, warm, and welcoming community that works every day to provide value to all of its members.
At Summit, you'll have an opportunity to meet and talk with our leadership team, and find out how you can be part of our great corps of volunteers. Come to our community reception table on Sunday, and to our business meeting and brown-bag lunch on Tuesday. We'll be delighted to tell you more about how you can become involved. Until then, let me tell you about two roles that we are seeking to fill as soon as possible.
Treasurer - The treasurer manages the SIG's finances, reconciles SIG expense records with STC's accounting records, processes expense reimbursement requests from SIG leaders, submits regular reports to the leadership team on SIG financial transactions, provides insights and advice on good financial stewardship for the SIG, and works with the co-managers to prepare the annual SIG budget.
Program leader - As a virtual community, our program of webinars helps us provide value-adding educational opportunities for our members. Our program leader researches opportunities for presentations, seeks and recruits presenters, publicizes upcoming programs using Eventbrite and social media, and works with presenters to schedule and manage each webinar using Adobe Connect. This is a great opportunity to learn more about what topics are of greatest interest to our members, and meet some of the most knowledgeable techcomm professionals and instructional designers in the industry. And you don't have to do this all by yourself – you can convene a team to help us offer great programs!
If one of these roles interests you, we will provide the training you need to be successful. And you won't work in isolation -- our leadership team is truly a team that is there for one another. Come and see us at Summit -- we can't wait to tell you more about our wonderful community of learners and teachers. If you can't make it to Summit but would like to know more about getting involved, contact us at managers@nullstcidlsig.org. We look forward to talking with you!