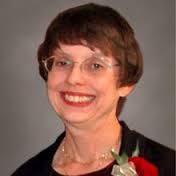 It is with profound sadness that we share this news.  Janice Watrous-McCabe, senior STC member and an active member of the IDL-SIG passed away on October 25, 2015 shortly after being diagnosed with cancer and just a few months after she retired from Allina Health, where she managed a group of eLearning specialists.
Speaking about her, Carol Widstrand, a former IDL-SIG Programs Manager who also worked with Jan at Allina said, "Jan was kind, compassionate, and persuasive. She would bring together a diverse group of people and keep them involved. Her evaluations of training materials were thoughtful and she always took the time to discuss why things are done a certain way in instructional design." Jane Smith, a former IDL-SIG manager wrote, "She contributed to the e-Learning evaluation session at the conference and helped with membership mailings.  She was very knowledgeable about ID… very competent." Jan also presented a well-received webinar, Developing a Curriculum, in May, 2010.
Jan was born on May 15, 1949 in Independence, Iowa and grew up in Waterloo, Iowa. She graduated with a degree in Education, but went to work as a sales representative for Northwestern Bell in Nebraska. She moved to the Twin Cities as Director Marketing and was part of U. S. West. After U. S. West she joined Health Partners as a technical writer and after completing her Master's Degree in Distance Learning from Capella University, she joined Allina Health where she won the Uncommon Caring Award of Excellence.
Jan is survived by her husband Robert, son David, and sister Sarah Berner, and two huskies.