by Marcia Shannon, Secretary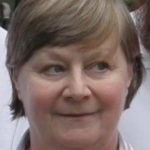 THE (emphasis intended) event of the year, of course, was the Summit, with the theme Gain the Edge to Get Results. Our IDL Sig was well represented by attendees and speakers at a conference packed with education, information, networking, and fun.
I am very glad that I participated in this year's Summit. I am in the process of taking my career in a new direction and this was an opportunity for exposure to a wide and deep pool of technical communication expertise and experience.
I had several goals for my Summit adventure: to put faces to the voices of the people I have met through online SIG meetings, webinars, and online classes; to freshen my perspective on my career in technical communication; to socialize with fellow tech commers; and to learn about techniques, trends, and theories in technical communication.
Did I gain the edge to generate improvements in my career and in my writing? Yes. I was engaged, energized, and found at least one take away idea in each session. I attended the opening and closing talks and ten education sessions. Two of my favorites were Leveraging Cognitive Science to Improve Structured Authoring, presented by Rob Hanna and A Tech Writer, a Map, and an App, presented by Sarah Maddox.
In Leveraging…, Rob described how to increase the effectiveness of documents by structuring them the same way people think and learn. A Tech Writer… was something of an adventure: Sarah decided that she wanted to write an app that would display a map of technical communication-related events. She described stepping way out of her writer's comfort zone to learn how to develop the app, how she engaged developers to participate in a group revision of the app, and how we can participate in keeping the app up to date.
Use these links to see and use what Sarah built:
Another engaging (and interactive) session, Gamification of Instructional Design by Phylise Banner, was an introduction to Learning Battle Cards, an instructional design technique new to me. I am still chewing on what I learned and am researching for additional information about this topic. I will have more with details about this in the next newsletter.
Did I meet, interact with, and engage with other people, both known and unknown? Yes, I definitely did all of those. There were plenty of opportunities to network or just chat between sessions, at receptions, breakfast, and lunch. I enjoyed conversing with other techn comm professionals because we shared common experiences and language. Learning one-to-one from someone else and sharing my own expertise made every minute interesting. All of my Summit goals were well met.
If you did not attend the Summit, look for regional conferences, online meetings, and webinars where you can dust off your ideas, learning and teaching with other tech commers. Our SIG will keep bringing opportunities to you, so check the web site regularly.