by Crista Mohammed
Well folks it's that time of year, when all STC members get antsy in happy anticipation of the the STC's Annual Summit. The 63rd Summit (can you believe it?)  is carded for May 15-18 2016 and takes place in Anaheim, CA.
For those in the Technical Communication community, the Summit is a momentous occasion both professionally and personally. On the professional side, it marks the culmination of a year's work and the start of another.The summit offers countless opportunities to network; to stay in touch with cutting-edge practice and research; and to interact with the rest of the STC community. On the personal side, old friends get that cherished once-a-year opportunity to reconnect; volunteers who work together virtually can meet face-to-face; and always there is the hard-won chance to kick-back or party hard ( however briefly) with like-minded folk.
Whether you're a veteran or newbie to the STC's Summit, here are some tips on making the most of Summit 2016:
Read, read and read again the Summit Schedule.
Create your individual schedule, taking account of training opportunities; presentations; meetings and social events that you MUST attend.
Prepare a list of alternative events, should there be changes to your initial plans.
Insert flexible time in your schedule. This will prove a godsend when you are faced with unanticipated yet fortuitous opportunities—a business hook-up or a meeting with a potential employer.
Plan your communication. Time is short and precious: You need to distill and precisely present your ideas for each anticipated communication scenario—What will you say to a potential employer? What suggestions will you put forth at your SIG business meeting?
Of all the events, arguably the most exciting is the IDL SIG Business Meeting. Last year, the wildly creative and fun-loving IDL Management Committee held a teddy-bear themed meeting. They caught everyone's attention and injected whimsy into otherwise very serious business!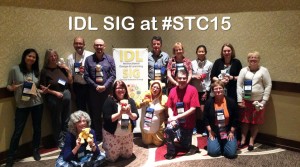 Can you guess this year's theme? Mum's the word, but I'll concede to giving you a clue. The Committee is drawing its inspiration from the great state of California. Could it be a surfing theme—with co-manager Robert Hershenow rocking a wet-suit and hunting for A-Frames? Or will it be Hollywood inspired—James Bousquet, Treasurer, as Colin Firth; Lori Meyer, Secretary, as Maggie Smith; Co-Manager, Mellissa Ruryk as Michelle Pfeiffer; and Program Manager, Viqui Dill as the stunning Meryl Streep? ...
Well, you will never know, unless you go! Have a great Summit 2016!