Book Review: Webinar School:
Planning, Producing, and Presenting Your Training Webinar
Elizabeth Frick. 2016. Laguna Hills, CA: XML Press. [ISBN 978-1-937434-50-2 (print), ISBN 978-1-937434-51-9 (ebook), ebook reviewed.]
by Jamye Sagan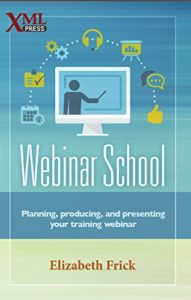 Over the past several years, webinars have become an effective way to deliver training while minimizing the need for travel. In this book (and as the book title describes succinctly), Frick walks the reader through the logistics of producing a training webinar—from preparing the content for delivery to capturing lessons learned afterwards.
Overall, the book chapters are well-organized and contain a wealth of information. Throughout her book, Frick includes several nuggets of advice, especially with selecting basic hardware, preparing presentation slides, encouraging participation, and mining the chat log for valuable information. Mostly, I appreciate how Frick recognizes the benefits of both webinar and live classroom training. Although her book focuses on webinar delivery, I still find it important to understand the strengths of each training delivery mechanism.
A few specific items in Webinar School stood out to me. First, in the preface, although Frick clearly states that her book does not cover instructional design principles, she takes time to mention that one design principle that she uses in applying her training to a webinar platform is to "clearly define chunks of material and build interaction into each chunk, either before, during, or after a lesson (and sometimes all three)." This simple bit advice reminds the instructional designer how to craft the content for a webinar.
In Chapter 4, Frick offers one of the most sage bits of advice—starting the webinar on time (vs. waiting for late stragglers): "What a poor way to train participants that they can be late for class and waste valuable webinar time!" Her statement can apply not only to webinars, but to all encounters (whether in person or virtual). Although this explanation was buried in a footnote, it is a cornerstone of classroom management.
In Chapter 6, Frick adds a human touch to technology by sharing strategies for personalizing the webinar experience – from mentioning where participants are located, to addressing individuals by name. After all, "the simple act of dropping a participant's name into a sentence creates awareness in the group of participants that you recognize all of them as individuals."
The most valuable part of the book is the checklists in the appendices. Frick provides two detailed planning and execution checklists—one for webinar trainers and one for webinar teams. Both checklists detail all tasks chronologically. The team checklist also itemizes each task by role: This is still pertinent even if the webinar team is just one person. The checklists alone are worth the price of the book.
Reading this book was like having Frick right next to me, with her conversational tone and simple way of explaining things guiding me along the way. Whether one has been producing webinars for years or just got thrust into the role, Frick's book will serve as a valuable resource with its generous heaps of advice and detailed preparation checklists that help the webinar take flight.
Jamye Sagan has over 10 years of technical communication experience. She is the Pharmacy Communications Advisor for H-E-B Grocery Company in San Antonio, TX. A Senior Member of the Society for Technical Communication (STC), Jamye is active with the Instructional Design & Learning SIG, where she has contributed several Summit session reviews for the SIG's newsletter. Jamye has also provided several book reviews for STC's journal, Technical Communication.