By Kelly Smith
Welcome to our Q3 newsletter! I'm looking forward to more free time this fall, having just completed my Master's in Technical Communication Management at Mercer University! It was a fun and engaging program and the coursework (which included usability, instructional design, visual communication, and social media management, among other things) was directly relevant to my day job as a senior technical writer. The professors are top notch and include many STC members, and the students came from varied backgrounds including other working professionals and some students fresh out of undergrad. If you're looking for a degree program, I personally recommend it.
If you want to see what else is on offer in the world of degrees and certifications, check out Sylvia Miller's article on the many educational opportunities featured on our SIG website!
We are kicking off autumn with a great collection of student articles.
Thank you to all the students who have contributed to our newsletters over the past few quarters! We look forward to featuring more young talent in 2020!
And, as always, we have reports from your volunteer leaders!
In her manager's report, Marcia Shannon talks about social capital and how the connections we make can enhance all parts of our lives. With SIG elections coming up soon, Marcia encourages everyone to get involved in our SIG in some capacity, either as a volunteer or an elected member.
Jamye Sagan was busy this quarter! In addition to her treasurer's report, Jamye gives us details on the upcoming Virtual Open House and reviews several of her favorite STC Summit 2019 sessions.
Lori Meyer reminds us all to renew our STC memberships! And don't forget—When you renew your membership, make sure to renew your SIG membership as well!
And finally, if you have news or articles you'd like to share in our newsletter, please contact me! Our next deadline is November 2! I look forward to hearing from more of you!
Take care, and have a lovely fall! We'll see you again in December!
---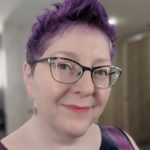 Kelly Smith has been Managing Editor of the IDeaL newsletter since May 2018. She also serves as membership manager for her local chapter – STC Southeast Michigan. Kelly works as Senior Technical Writer at Dart Container in mid-Michigan and has been active in the STC since 2015. In her free time, Kelly is a quilter who enjoys quilt retreats and buying fabric.