Member Spotlight: Meet Kim Lindsey*
By Kim Lindsey and Sara Buchanan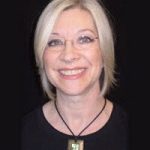 Meet Kim Lindsey, an STC and NEO STC member since 1999, who currently serves as the NEO STC's Webmaster. She has held many roles over the years, including President during the 2004-2005 chapter year. In 2016, she was named an STC Associate Fellow.
Kim is the eLearning & Instructional Design Manager at Cinécraft Productions Inc. in Cleveland.
Kim shares her career highlights and advice to others
"I came to technical communication as a mid-life career changer and I've never regretted it. I encourage everyone to not be afraid to reach out and try new things. Our skills and interests keep developing throughout our lives, and there are innumerable challenges and opportunities if our eyes and hearts are open. And, when I moved from technical writing to instructional design (ID) in 2009, it was quickly apparent that having a long and varied work history is a huge benefit. ID is a terrific field for career-changers who can write."
Kim can sing (and volunteers)
"Looking back, I'm kind of amazed: I've been doing some kind of volunteer work almost my whole life. I've served in community organizations and in many capacities at church; I also enjoyed 11 years of Saturday evenings ushering for The Cleveland Orchestra. I was in the Cleveland Orchestra Chorus too for a few years – an incredible honor. Right now I have a tiny freelance "side-hustle" going at Truth For Life (TFL), a Christian ministry where I'm a writer on the Content Team. My techcomm experience recently came in handy at TFL as I designed and developed the first edition of a "Writer's Handbook" used by everyone on the team."
Kim has wonderful, varied interests
"At a 2006 STC meeting, Rebecca Slifer was begging, 'Someone please take the kitty in this photo!' I still have my little Maria plus another cat besides. My hobby is freeform bead weaving, and every month I participate in Bead Club at Cleveland Rocks and Beads in Cleveland Heights. I'm a rabid sci-fi/fantasy fan, which these days means I'm a "Sander-fan" (a fan of Brandon Sanderson). On the 17th Shard Forum, you can find my posts under the name "old aggie." Shard-ers are amazing people and I find out about lots of stuff there: new music and online content I'd never find on my own – keeps my brain young!"
*This article originally appeared in Lines & Letters (February 2017), published by Northeast Ohio Society for Technical Communication (NOE).