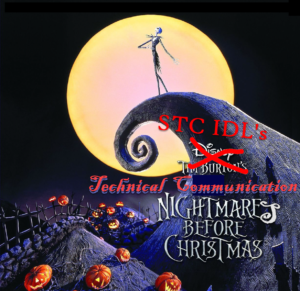 image © Disney, Touchstone Pictures
By Mellissa Ruryk
Cue the spooky music…
STC's 2020 Most Improved Community—Instructional Design & Learning SIG—is holding a fun social event and contest open to all STC members.
Contest details
To enter the contest, write a short (500 word) description of your worst nightmare connected to your work as a technical communicator, that actually happened to you. Names can be changed to protect the guilty!
Were you teaching a class with your fly open? Burst a button on your blouse revealing your bra? Wardrobe malfunctions aside, how about missing a typo in the company name on the front page of the new brochure, printed on the most expensive paper ever?  How about printing 100s of a new SOP with the approving VP's name misspelled?
Practitioners, bring us your worst technical communication disasters. Your pain can be your gain! STC student members will judge the entries and award 3 prizes. 
Send your contest entries to StudentOutreach@stcidlsig.org before November 30, 2021.
Judging
Judging criteria will be along the lines of:
How many people saw the mistake?

What was the dollar cost and/or number of hours to recover from the nightmare?

How long did you work on the project without clueing into the nightmare?
Announcing the Winners
On Fri, December 3, 2021, from 5:00 PM – 6:00 PM EST at the IDL's First Fridays @ Five Zoom social, we'll announce the winners and ask the authors to read their entry to us. All entries will also be published in the Q4 issue of our award-winning IDeaL newsletter (publication date: December 31, 2021).
Free Registration for all!
Please register for the event so we can stay in touch with you and send you friendly reminders.
https://www.eventbrite.com/e/first-fridays-at-5-the-tech-comm-nightmare-before-christmas-tickets-170518714064
Register to attend even if you are not submitting a nightmare. We need an audience!
It's free to attend for all:
Students

academics

practitioners

STC members

STC non-members

job seekers

volunteers

future volunteers

curious explorers
Prizes
The IDL SIG has a couple of corporate sponsors who are generously underwriting the prizes:
First prize is a $35 Amazon gift card, courtesy of TEK-Right Consulting Ltd.

Second prize is a $25 Amazon gift card, courtesy of Imperial Productions

Third prize is a $15 Amazon gift card, also courtesy of Imperial Productions
And, yes: if you've messed up more than once—go ahead and submit more than one NIGHTMARE!