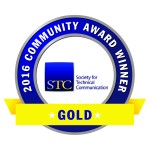 As a member of the Community Achievement Award Evaluation Committee, it is my honor to inform you that the STC Instructional Design and Learning SIG has earned the Gold Community Award for your community's activities in 2015. The citation on your certificate will read:
"For your strong and consistent promotion of STC and the IDL SIG through active participation in the 2015 Summit and your excellent educational offerings, including your very creative Virtual Progression program."
You are to be congratulated on the high value you offer to your membership. The CAAEC hopes that your community will continue to aspire to a high level with a set of impressive activities next year. For planning purposes, the 2016 CAA application (slightly updated) will be posted to the STC website soon.
Congratulations to all members of the STC Instructional Design and Learning SIG!
MaryKay Grueneberg
Community Achievement Award Evaluation Committee (CAAEC) Chair