By Maralee Sauter, IDL SIG Manager
Why do I go to the Summit? To connect with friends and colleagues and to learn. This year, there were seven tracks of sessions. It was hard to choose, so I did my best to attend instructional design-related topics. The following is a recap of my five favorite sessions.
From Google to TikTok: Rationalizing the Digital Tutorial
Presenter: Liping Yang
This session asked technical communicators to consider using TikTok for online tutorials. Digital tutorials teach people how to do things and are effective in multimodal learning, compared with paper-based tutorials, and TikTok is the favored platform for the Gen Z generation. So, TikTok is a good place to post three-to-six-minute videos to capture their attention. Ms. Yang's explanation of tutorial design was backed up by many examples of TikTok mini-tutorials showing many design concepts.
Transform PowerPoint Presentations into Fully Interactive eLearning Courses for Your LMS
Presenter: Chuck Campbell
Mr. Campbell explained how to turn static PowerPoint slides into a fully interactive eLearning course for a learning management system (LMS). He started with his real-world experience when a manager announced that a training presentation was ready to upload to the LMS. "Not so fast; there's a process for that," Chuck exclaimed. What followed in this presentation was a sequence of events for his LMS Course Development.
Practical Sketching for Technical Communicators
Presenter: Elizabeth Alley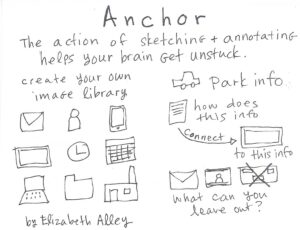 This practical and fun session involved sketching basic shapes and lines to convey a word or idea. Sketching helps create a process to capture information and is scientifically proven to improve memory and attention; it can even get your brain "unstuck" when creativity is blocked.
The process begins with taking notes, having conversations, and reading. Once you develop ideas and think through problems, a draft, a new idea, or a solution is bound to happen. The adjacent graphic is from Elizabeth Alley's tiny Practical Sketching for Technical Communicators booklet.
What Tech Comm Professionals Can Learn from Museum Curators
Presenter: Leah Guren
This engaging presentation emphasized how museum curators are brilliant at organizing and presenting information to the public. As tech comm professionals, the correlations between museum organization, classifications, and arrangements are easily found in museums.
Ms. Guren took us on a tour of the Reuben Hecht Museum at Israel's University of Haifa. She talked about how the museum used grouping, classification, visual signposts, and self-guided tutorials—all elements shared by tech comm. What takeaways can tech comm professionals apply from the museum experience? Leah suggested that we take a new perspective and look at navigation, labeling, color and shape, layered information, and value-added information as it applies to our craft.
Creating an Infographic Using PowerPoint: Let's Do It!
Presenter: Kelly Shrank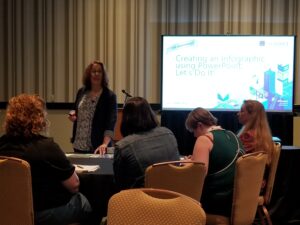 Ms. Shrank began the first part of her presentation by explaining infographic elements: visual aspects, content, and the tools used to create them.
In the second part, "Let's Do It," she demonstrated the following steps:
Step 1: Sketch the process
Step 2: Find inspiration
Step 3: Choose tools (she uses PowerPoint)
Step 4: Set up slides